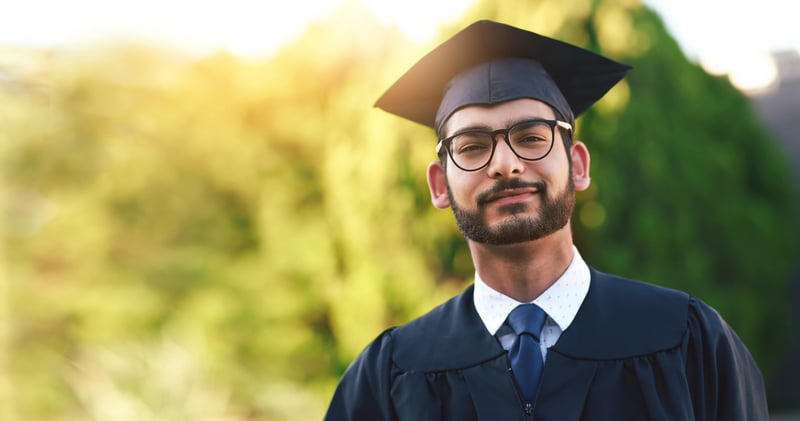 Whether you've been out of school for three months or three years, you may still be asking yourself the same questions: should I go back to school for a graduate degree? And what kind of degree do I want or need to succeed in the fields I'm interested in?
Depending on your discipline, you may be wondering how to make a choice between a master's degree and a Ph.D. Both graduate degrees mean an investment of time, skills, and resources, but these degrees are ultimately quite different.
For anyone who is thinking about graduate school but doesn't know exactly what type of degree will work best for their goals, here are three questions you can ask yourself that can help you determine which degree option is right for you.
What is my ultimate goal for pursuing a graduate degree?
The best place to start is the end — determine what your ultimate ideal job would be and figure out what steps you need to take to get to that point.
A good exercise is to research the types of companies or institutions that do the kind of work you want to do and look at what positions are available. Job descriptions will give you an idea of the qualifications these employers expect their prospective employees to have.
By identifying your career goals and understanding what is required of the positions or roles you want, you can begin to lay the foundation for an educational plan that helps you obtain your dream job.
What are my timeline and funding needs?
How much time can you commit to another degree? On the surface, a master's program may appear as the more economical choice. Master's programs require fewer credits and take less time to complete than a Ph.D. program. Many master's programs can be completed in two years (often with part-time options), while Ph.D. programs can take approximately 5 to 6 years to finish as a full-time student.
Many students find that a master's will help them advance to a higher pay scale in their current job. If this is their primary motivation for seeking a graduate degree, then the master's degree is enough to get them to their desired income level.
Although they take longer, many Ph.D. programs provide funding to allow students the financial freedom to focus on their studies and research. Students also benefit from working closely with an accomplished faculty member who can provide a more thorough and well-connected introduction to the industry. Also, students have the opportunity to build up their own professional network and work portfolio by attending and presenting at conferences, writing and publishing articles, and working as a course instructor while finishing their degree.
While they may require more investment in terms of time, the experiences earned while getting a doctorate are valuable and help build a substantial and impressive résumé.
Pro-tip: Learn more about the typical timeline for earning your Ph.D. to help you decide if it is right for you!
Where am I in my career?
It's important to understand the basic admission requirements for your program of interest. Some programs allow you to apply to a doctoral program and earn a master's along the way. Other Ph.D. programs require you to have the master's in hand before you apply, while others may want a master's and some work experience first.
If you are in the earlier stages of your career, you may need more preparation before you can apply to a Ph.D. These degree programs tend to be more heavily research-based and require participants to possess a strong academic skill-set that they may have developed through their master's or personal work experience.
The more information you can collect, the more comfortable you'll be with your decision. Plan a visit to campus, ask questions at local networking events, and get to know more about what your programs of interest can offer you and what will be the best fit for your career goals.
Now, You Can Move Forward with Purpose
Whether you're leaning toward a master's degree or a Ph.D., thinking about getting your graduate degree gives you an opportunity to step back and ask yourself important questions about your career aspirations and your intellectual interests. Your answers to these questions will provide the basis for your clarity and sense of purpose if you do decide to apply for and enroll in a graduate program.
You may still have unanswered questions about going to graduate school and about what getting a Ph.D. actually looks like. SMU's Office of Graduate Studies is here to help!
Check out this comprehensive resource that we created to help you visualize your journey to a Ph.D., from application to dissertation:
A Guide to Choosing, Applying for, and Thriving in a Ph.D. Program.