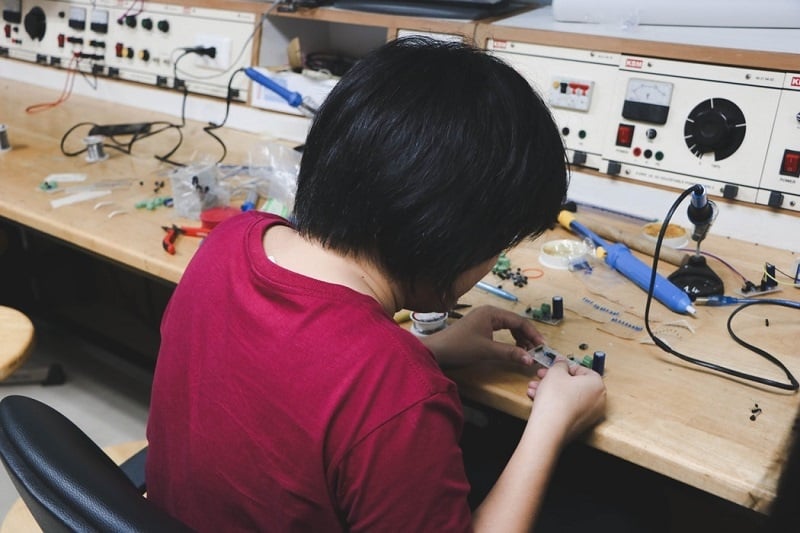 Often the first and sometimes only career that comes to mind when students consider pursuing their Ph.D. in Physics is a job in academia. Teaching at a college or university can be a noble and rewarding career – but your professional options are not limited exclusively to the realm of a classroom or lab.
Keep reading for data about the fields in which physicists end up working and for a detailed look at the potential career paths that are open to people with an advanced degree in physics.
The Data Shows Career Diversity
One study performed by the American Institute of Physics (AIP), surveyed 503 physicists about their careers working in the private sector, 10-15 years after earning their Ph.D. The data collected revealed a several commonalities. First, the vast majority of mid-career Ph.D. physicists were working in the STEM fields. The most common fields were physics and engineering, followed by education, computer software, and business. Other fields included education (non-physics), non-STEM, other STEM, computer hardware, and medicine.
Additionally, the study found that physicists' careers in the private sector relied heavily on skills such as solving complex problems, managing projects, and writing for a technical audience. Across the board, the study found that the physicists felt their work was rewarding, as they found the work intellectually stimulating and challenging, and enjoyed collaborating with smart professional colleagues.
While the possibilities are vast and varied for those graduating from physics Ph.D. programs, the following are examples meant to demonstrate the range of fields and careers that are available to you.
Research and Development Engineer (Physics)
Job Description: According to AIP, about half of Research and Development Engineers work in the private sector (51 percent), with 31 percent working in government, 16 percent the academic sector, and 2 percent in other areas. These engineers are responsible for overseeing, conducting, and applying research activities and experiments for organizations. They also will take the results, summarize them and disseminate their findings. They might also be responsible for developing technical documentation for projects.
Data Scientist (Non-STEM)
Job Description: AIP found that the vast majority of Data Scientists work in private industry (82 percent), a smaller portion working for the government (15 percent), and only 2 percent in the academic and 1 percent in other sectors. Data Scientists are responsible for taking large amounts of data and mining for patterns and information hidden within the data sets. They use statistical analysis to review the data, learn about how a business performs, and to build AI tools that automate certain processes within the company. They might also be responsible for creating various machine learning-based tools or processes, including recommendation engines and automated lead scoring systems.
Quantitative Developer (Business)
Job Description: Virtually all Quantitative Developers (often referred to as quants) are working in private industry (95 percent). AIP found that 5 percent found employment in other sectors. A job as a Quantitative Developer will require an interest in working in finance, math, and technology. You will also need experience with computer programming languages such as Matlab, C++, Java, C#, Q, Perl, Python and others. The majority of the work is creating, implementing, and analyzing mathematical models that are used to drive trading decisions. Developers also analyze risk models, create and develop new software for automated trading, and work alongside traders and other financial analysts in the company.
Systems Engineer (Computer Software)
Job Description: According to AIP, almost all Systems Engineers work in the private sector (94 percent), with small portions working in hospital or medical facilities (3 percent), academic settings (3 percent), or government (1 percent). Systems Engineers work alongside a team of highly technical engineers to ensure the quality, performance, and security of software infrustructures. The are responsible for installing, configuring, testing, and maintaining operating systems, application software, and system management tools. They monitor and test the systems, working to identify potential problems and creating and implementing solutions.
Medical Physicist (Medicine)
Job Description: AIP found that 74 percent of Medical Physicists worked in the private sector, and the remaining 26 percent worked in a hospital or medical facility. Medical physicists use a variety of analytical, computer-aided and bioengineering techniques, as well as analytical skills and applied science to aid doctors and medical staff in diagnosing and treating patients. They are responsible for helping to plan and ensure the safe and accurate treatment of patients. Often they will provide training and advice on advanced medical technologies such as radiotherapy, tomography, and nuclear magnetic resonance imaging and lasers.
About 85% of medical physicists are involved with "some form of therapy," according to Physics Today, a publication of the AIP.
A Ph.D. in Physics Can Take You Far
Your career options post-doctorate are far from restricted to a classroom, a lab, or academia. Upon completion of your Ph.D. program, you will be equipped with the expertise to complement any number of professional teams in a variety of sectors. You could have the option of working in private industry, for government agencies, in hospitals and medical facilities, or if you desire, in a research lab or as a tenured professor.
The only question that remains is – what will you choose to do next? Start pursuing your advanced degree in physics in order to make one of these careers a reality!