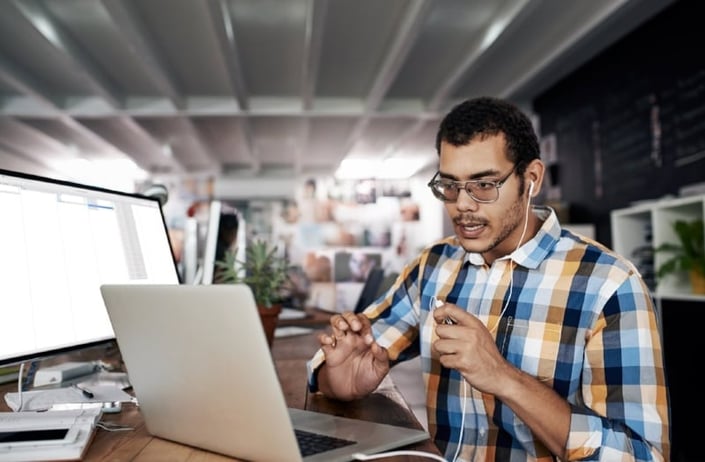 For a few years now SMU's graduate programs in Dedman College have been doing something new as part of their application — including a video essay component. While it might sound intimidating, a graduate school video essay is actually a very informal way of getting to introduce yourself to the entire admissions committee for your department.
It's not something to be scared of. Rather, think of it as one of the best tools and opportunities you have to showcase your personality to the school.
To further de-mystify this element of the application, read on as we share more about the grad school video essay and how to prepare as you put together your application.
Who should submit a video essay?
First of all, the video essay is mandatory for the following students:
All Dedman College Ph.D. applicants that: (1) must submit TOEFL or IELTS scores, and (2) have received a TOEFL speaking score below 23, or an IELTS speaking band below 6.5.

All international statistics or biostatistics graduate applicants, in either the Ph.D. or MASDA programs.
For all other Dedman College applicants, the video essay is optional, but a tool that can definitely work to your advantage.
What should you expect from the video essay?
To begin, SMU faculty and administrators will ask you one question.The question is randomly generated, and could be about your goals, background information or preparation for your graduate program. After you see the question, you'll have 60 – 90 seconds to respond in your own video.
You'll have one chance to re-record your response if you don't like your first try, but you may get a new question. So make sure you are ready to film. But don't worry, you'll have an opportunity to practice and test your equipment before filming the real responses.
---
Many applicants can look the same on paper, but your personality can really shine through when you're able to speak directly with the admissions committee via recorded response.
We hope that these video essays for graduate school admission will give you a chance to express yourself and share why you are interested in your field. Best of luck!
P.S. — Need a laugh to ease your nerves before recording? Check out this outtake from when we filmed one of the questions and the wind got in the way. Don't worry, we know that video recordings don't always go perfectly!
Looking for more information about how to apply to graduate school as an international student? Check out the Guide to International Admissions at Southern Methodist University for more information!