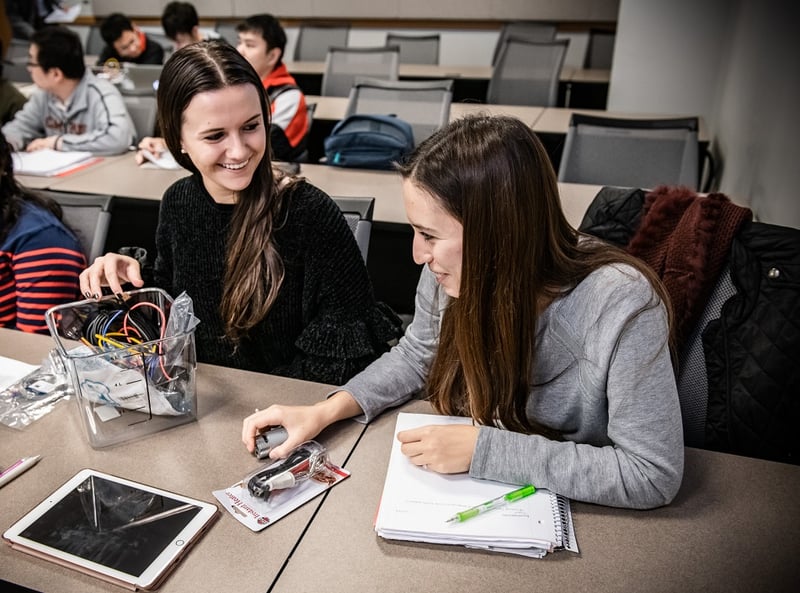 Note: this interview was condensed and edited for clarity.
Not all students set out from an early age with the intention to pursue a career or degree in electrical or computer engineering. Take, for example, SMU professor of Electrical and Computer Engineering (ECE) Dr. Jennifer Dworak who wanted to be an astronomer or astrophysicist, until she looked into other fields and discovered electrical and computer engineering.

We had the opportunity to speak with Dr. Dworak and ask her about her decision to teach in the field of ECE, what brought her to SMU, and the future of ECE. So, keep reading to learn more about the great professors at SMU, research opportunities during a Ph.D. in Engineering program, conquering fears about grad school, and much more.
What courses do you teach at SMU and how long have you been teaching here?
I came to SMU during the summer of 2010. At the graduate level, I teach a more advanced computer architecture course as well as courses in "Hardware Security and Trojan Detection" and "Testing of VLSI Circuits."
Did you always want to work/study in the field of Electrical/Computer Engineering, or did you have other plans?
For a long time, I thought I wanted to be an astronomer or astrophysicist. Then, when I was in high school, I was told that you had to wait for someone to die to get a job in astronomy. That seemed sort of depressing. At the same time, I was also interested in computers, and I knew how to program, but I really wanted to know how my computer worked. In other words, "how does the stuff you type in a program really translate to "electrons" to give you answer?" I thought that electrical and computer engineering would help me find out, so I decided to major in electrical engineering in college. I thought that I could always change to astronomy if I didn't like it. However, when I took my first digital design course, I realized that I loved it. I remember thinking, "This is why people want to be engineers!" Now I get to teach that subject I loved so much every year to new students at SMU.
What initially interested you in teaching on a graduate level? What brought you to SMU?
I first considered leaving Brown University for SMU when a friend told me that SMU was hiring in the department of Computer Science and Engineering and that I should think about applying. I was very impressed by the excitement and vision of the people I talked to in the department, including the focus on security, an area in which I wanted to do more research. I was also excited about being able to work in the DFW Metroplex. The potential for industrial collaborations with companies, such as Texas Instruments, was very attractive. And it is a relatively short drive to collaborate with additional tech companies in Austin. Finally, I was very impressed with the students I met during my interview. They were clearly highly intelligent and excited about learning—which makes teaching a joy.
What research have you been involved in at SMU and other places?
My research involves making sure that the digital devices we use every day operate correctly, safely, and securely. As a result, I do research in developing better ways to test circuits for defects. A naive approach that tests every possible input combination would take longer than the current age of the universe for most circuits, so finding the right tests to apply, and designing circuitry that makes testing easier and more effective is crucial.
However, once chips reach the field, latent defects and aging can cause more problems. This is especially important in safety-critical applications like automotive. Thus, testing needs to continue throughout the chip's lifetime and needs to be highly effective, efficient, and of low power. Finally, even when defects do not occur, security issues can arise due to side-channel attacks, hardware Trojans, and unintentional back-doors. My research covers these areas as well.
What is the community like in the Department of Electrical/Computer Engineering and at SMU in general?
I work with faculty members in multiple departments. My research lies at the interface between hardware and software. As a result, I collaborate with colleagues in both electrical engineering and computer science who teach at SMU in addition to colleagues in these kinds of departments at other universities. I also collaborate with the Caruth Institute for Engineering Education on STEM outreach for students in K-12.
What achievement, project, or experience are you most proud of from your years of research and teaching at SMU?
I earned my first patents while at SMU. These patents involve enhancing the security of circuits by making it harder for an attacker to access internal circuitry used for testing, debugging, monitoring, and the configuration of devices.

I've also graduated some outstanding graduate students from SMU. My two most recent Ph.D. students are currently working at Cisco and NVIDIA. It's wonderful to see a student grow and really take ownership of their project and start to generate their own research ideas.

Finally, most of my industry collaborations have taken place while I was at SMU —including collaborations with engineers at NXP Semiconductors, Texas Instruments, ASSET InterTech, and AMD, among others.
Why do you think Electrical/Computer Engineering is an important and valuable field to study?
Computer engineering really lies at the interface between hardware and software. As a result, students are exposed to both electrical engineering and computer science. They not only know how to program, they understand how the underlying hardware works. Furthermore, they can better design new hardware and new software that take advantage of this combined background. They can even design new software that helps them design and test new hardware! My former Ph.D. students have worked on hardware for companies such as Cisco, NVIDIA, and Apple, as well as software for companies like Facebook.
What about studying Electrical/Computer Engineering poses the biggest challenges for students?
Pursuing a graduate degree means that you need to reach for 'the next level.' You are no longer the person being told step-by-step what to do to solve a problem that has been solved many times before. Instead, it's your job to help solve new problems—and eventually you find your own new problems to solve.
Are there any emerging trends or developments in the field of Electrical/Computer Engineering that you find exciting?
Electrical and computer engineering are at the forefront of the big technology changes of our time. Electrical and computer engineers are not only developing new AI (Artificial Intelligence) approaches, but they are also designing the computer architectures that will allow AI algorithms to run more efficiently and effectively.
Medical devices and autonomous vehicles are two other application areas that need research in design, reliability, security, and AI. In addition, there is a great need for "Design for Security and Trust." We not only need to make su re that we design our systems well — we need to make sure that we don't allow any back-doors to be placed in them. We also need to find ways of taking even untrusted circuits and being able to incorporate them into a trusted environment.
Find out if like Dr. Dworak, you should pursue a Electrical or Computer Engineering Ph.D. by reading our digital resource, "A Complete Guide to Earning Your Ph.D. in Electrical and Computer Engineering!"