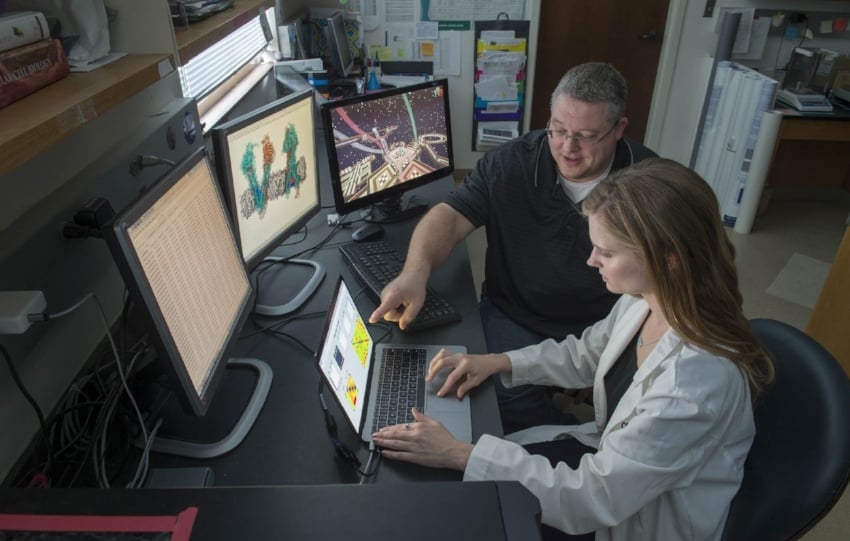 Imagine – biologists and chemists, coming together with computer designers and video gamers to develop a drug that can help save the lives of cancer patients. This cutting edge technology and multidisciplinary approach is the way of thinking on display throughout Southern Methodist University's (SMU) Center for Drug Discovery, Design, and Delivery (CD4).
The Importance of Interdisciplinary Discovery
Currently, there is a great need for breakthrough technologies and innovation in the intersecting fields of chemistry and medicine. Chemistry has long been thought of as "the central science," because it bridges the gap between the physical and life sciences and the applied sciences like engineering, environmental science, and medicine. Chemistry, because it is foundational to all the sciences, makes for a perfect launching pad into interdisciplinary discovery.
A recognition of the importance of interdisciplinary discovery is one of the primary reasons the Computational and Theoretical Chemistry Group (CATCO) was instituted at SMU. CATCO emphasizes an interdisciplinary approach by focusing research and teaching efforts on the intersections of chemistry with areas of current need. To reinforce this, graduate courses in the classical disciplines of chemistry (general, organic, analytical, and physical) are not offered, but instead, courses are taught on the major topics in an interdisciplinary way.
Using High Performance Computing to Produce Innovative Research
One of the tools that sets SMU apart from other universities in its ability to produce research driven results is its supercomputer which has been affectionately named ManeFrame. The U.S. Department of Defense awarded this High Performance Computing (HPC) machine to SMU in August 2013. The enormous capacity and speed of HPC expands scientific access to new knowledge around key questions about the universe, disease, human behavior, health, food, water, environment, climate, democracy, poverty, war and peace.
ManeFrame is able to sort through and process massive amounts of data within moments, accelerating research capabilities exponentially. Thomas M. Hagstrom, a professor in the Department of Mathematics in Dedman College and director of SMU's Center for Scientific Computing said ManeFrame "makes research that solves problems on a large scale much more accessible. ManeFrame's theoretical peak would be on the order of 120 Teraflops, which is 120 trillion mathematical operations a second."
So how exactly is the CD4 using ManeFrame? And what research opportunities and projects are being pursued in this interdisciplinary fashion? Two current projects of note include the work done by the Biehl group and the Vogel and Wise labs.
Tackling Diseases Like Alzheimer's and Parkinson's
Over 4 plus years, the Biehl group's research focused on the synthesis of heterocyclic compounds which, by using SAR experimental techniques produced a large variety of neuroprotective compounds. Together with University of Texas at Dallas (UTD), SMU secured two patents on benoxazenes and two on indolones. The group also collaborated with Johns Hopkins University and Georgetown University through an National Institute of Health grant, and synthesized over five new classes of heterocycles.
At least 20 of these compounds have superb neuroprotective activities against LRRK2 kinase, and the group submitted patents covering these new classes of heterocycles. The group also collaborated in studies with UT Southwestern and UT Arlington. Most importantly, EncephRx licensed the benzoxazines patents and are carrying out pre-clinical trial experiments. These experiments have demonstrated that the group's lead compound is water soluble which should increase overall bioavailability in vivo.
Creating Drugs to Kill Cancer
The Vogel and Wise labs are currently performing groundbreaking, interdisciplinary studies in which three drug-like compounds have been shown to successfully reverse chemotherapy failure in three of the most commonly aggressive cancers—ovarian, prostate, and breast cancers. The compounds were first discovered computationally using the supercomputer, ManeFrame, and then confirmed in wet-lab experiments. Using simulation software and a computational model of the "sump-pump" protein called P-glycoprotein, they were able to quickly screen millions of potential compounds digitally through SMU's ManeFrame. With the computational model, the lab was able to observe on a computer screen how digital compounds are absorbed onto and into the P-glycoprotein model.
Of the millions screened, more than 300 were found to be potentially effective, and those were then tested in the lab. Three compounds have proven successful, and more research is being devoted to developing these drug-like compounds. When cancer supercells develop a resistance to chemotherapy drugs, the cells is able to "pump out" the drugs, rendering them ineffective. The Vogel and Wise labs aim to use the compounds they have discovered, to temporarily disable the "sump-pump" cell, allowing the chemotherapy drugs to defeat the cancer.
Partnering with Gamers to Do Chemistry Research
Recently, the labs have combined efforts with video game developers to assist in their interdisciplinary battle against cancer. Partnering with fans of the best-selling video game, Minecraft, Vogel and Wise hope to harness the creative and innovative thinking and problem solving that human intelligence brings to the table.
"Crowdsourcing as well as computational power may help us narrow down our search and give us better chances at selecting a drug that will be successful," said Vogel. "And gamers can take pride in knowing they've helped find answers to an important medical problem." The vast network of gamers can crunch massive amounts of data during routine gameplay by pairing two powerful weapons: the best of human intuition combined with the massive computing power of networked gaming machine processors. This innovative and multi-disciplinary effort has more than doubled the ManeFrame's processing power when attacking their research question.
This innovative project approach of combining the impressive power of computational science, with the innovation of gaming, has already proven successful in an experiment done by the University of Washington. The video game "Foldit" was created by the university, specifically to unlock the structure of an AIDS-related enzyme. Corey Clark, Deputy Director of Research & Asst. Professor of Computer Science and Engineering, said "with 'Foldit,' researchers worked on a problem for 15 years using machine learning techniques and were unable to find a solution. Once they created the game, 57,000 players found a solution in three weeks."
These are just a few of the types of projects and research opportunities students in our Ph.D. in Chemistry program could participate in at the SMU Center for Drug Discovery, Design, and Delivery. There are countless other innovative opportunities, and areas for new discovery available to our students in this one unique center.
Are you interested in an interdisciplinary approach to chemistry? Discover our new comprehensive resource exploring SMU's Theoretical and Computational Chemistry program!