All Posts
Learning to Communicate About Your Research: Research Day 2018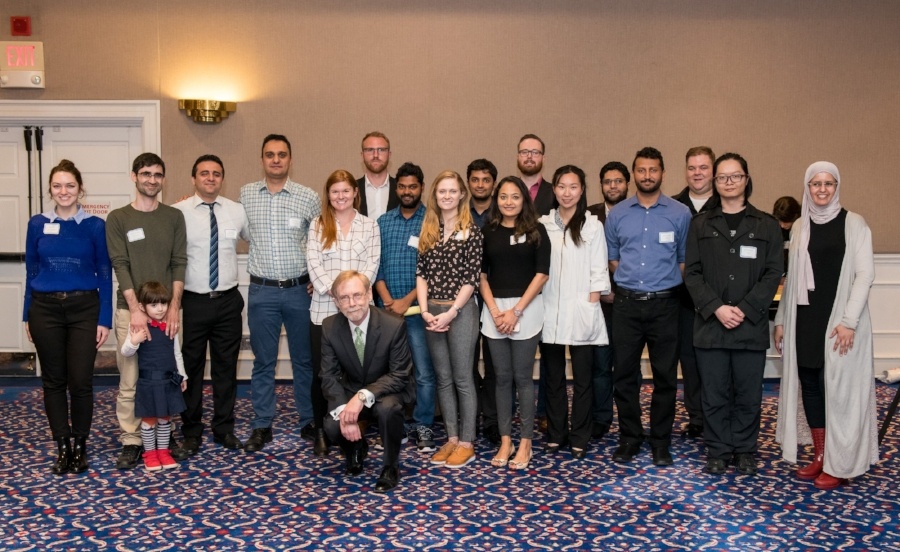 You're gathered around the Thanksgiving table with your whole extended family. Your young cousin asks you to pass the butter, and suddenly you're being addressed by the uncle that hasn't been home in 10 years.
"So, tell me about yourself. What do you do?"
At this point, if you're a graduate student, you are sweating bullets. How are you possibly going to convey your field of study and research interests in a way that's concise, informative, engaging, and with just the right amount of passion and humility? How do you communicate what is special and important about your life's work?
Why Should You Learn to Communicate?
It can be tough to communicate with non-specialists about your area of interest. In every field—science, arts, or humanities—specialized vocabulary, concepts, and context give the field a richness and depth that students of the field love, but that present barriers to entry for everyone else.
But the benefits of learning how to communicate about your research quickly and effectively are huge. Not only will it make you more comfortable at family gatherings, you'll be honing your ability to network at conferences, pitch yourself and your work on the academic job market, and to explain to yourself why you are studying what you're studying.
Research Day 2018
One of the ways we help graduate students at SMU develop these communication skills are through our Research Day programs. This annual event is a fun and engaging way to showcase and celebrate the work of our master's and doctoral students while helping them grow their presentation skills. The topics featured every year at this event come from all the fields of study at SMU, and abstracts are submitted in advance.
For years the flagship event of Research Day has been a Poster Session. During this event, our graduate students prepare professional-style posters and present them to a team of judges for their discipline, usually faculty or distinguished industry guests. Cash prizes go to the best poster in each division.
The Three Minute Thesis (3MT)
In 2018 we launched our inaugural Three Minute Thesis competition, part of a global initiative. This competitive exercise is used at many graduate schools across the world. Started at the University of Queensland, 3MT cultivates students' academic, presentation, and research communication skills. The competition supports their capacity to effectively explain their research in three minutes, in a language appropriate to a non-specialist audience.

Judges use two sets of criteria to evaluate student performance: 1) comprehension and content and 2) engagement and communication.
They consider questions like:
Did the presentation provide an understanding of the background and significance to the research question being addressed, while explaining terminology and avoiding jargon?

Did the oration make the audience want to know more?

Did the speaker have sufficient stage presence, eye contact, and vocal range; maintain a steady pace, and have a confident stance?

Was the presenter careful not to trivialize or generalize their research?

Did the presentation clearly describe the impact and/or results of the research, including conclusions and outcomes?
It might sound intimidating, but 3MT provides a great opportunity for our students to further their skills and prepare to become leaders in academia and industry. One of the best things about an opportunity like Research Day is that graduate students get to challenge themselves and grow in a context that is communal, friendly, and focused on supporting each individual's academic growth and career before they face a larger audience.
Are you considering a career in academia or thinking about getting a graduate degree? We're glad you're here. Subscribe to our blog to stay updated on advice and research news from SMU's Office of Research and Graduate Studies.