All Posts
Moody Graduate School Interview: Rachel Ball-Phillips, Ph.D. — Director of Graduate Fellowships and Awards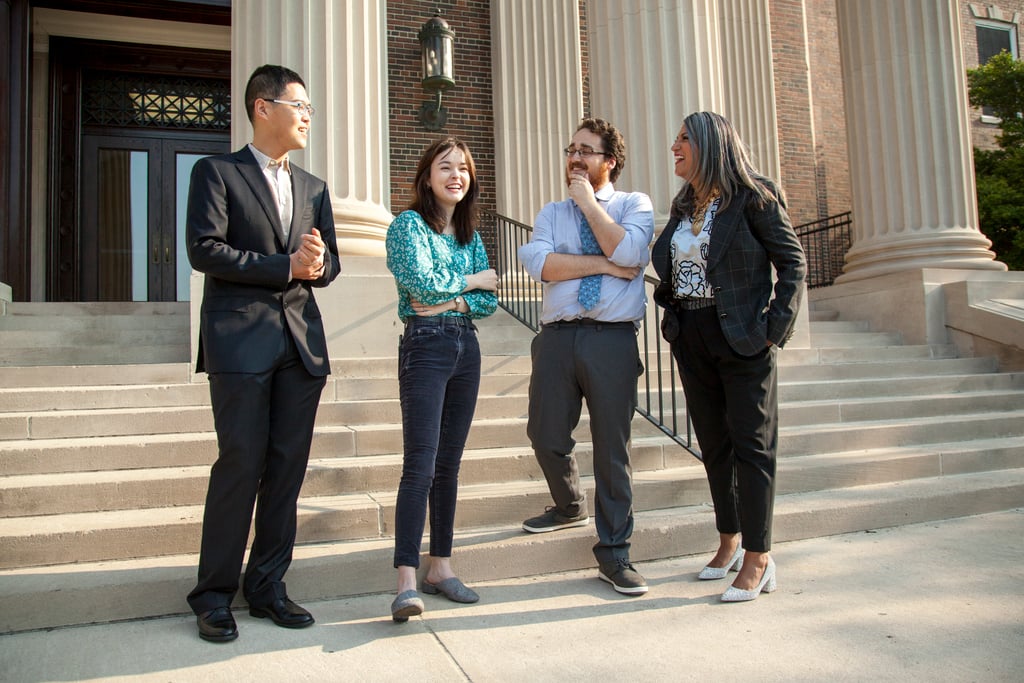 Being awarded a research fellowship is a key way to fund your graduate school research, while also giving your research prestige and credibility. This extra stamp of approval on your research can be especially helpful when it comes time to apply for post-doc positions or jobs after getting a doctorate.
But how do you go about finding a fellowship after you have applied and gotten accepted to a PhD program? Rachel Ball-Phillips, PhD is the inaugural Director of Graduate Fellowships and Awards at Southern Methodist University and is here to share her insights. Read on to find out how her role can help you find your place (with funding) at SMU.
1. Tell us a little about yourself!
I'm from the small Texas town of White Settlement, and came to SMU as a Hunt Leadership Scholar for my undergraduate degree. I pursued bachelors' in History and Individualized Studies in the Liberal Arts with a specialization in Indian Studies and minors in Cultural Anthropology and Asian Studies.
I then moved to Boston where I completed my Masters and Ph.D. in South Asian History at Boston College. You could say that I began my career in fellowships as a graduate student when I learned the value of fellowships early on in my graduate career. I was able to fund two years and three summers with funding from nationally competitive grants from the American Institute of Indian Studies and Fulbright.
Before starting as the Director of Graduate Fellowships at SMU, I was the Director of National Student Fellowships and President's Scholars here at SMU. I've also worked as a freelance writer for business plans and as a dual credit history teacher in Grand Prairie ISD.
2. Explain the role of Director of Graduate Fellowships and Awards and how you will support students.
As the Director of Graduate Fellowships and Awards, my office is responsible for helping students navigate the entire fellowships application process. I work with students on finding the appropriate fellowships and setting up their five year fellowships plan.
Once students select the appropriate fellowships, I then help guide them through the process of application from brainstorming to final submission. During the process, I offer advising on strategy, content, and writing.
My office also offers additional writing support from writing faculty who have been trained and have experience working with fellowship applicants.
3. How should prospective and current students expect to interact with you? Will you contact students or should those who are seeking funding schedule a meeting with you?
I work with graduate students who have been accepted into their program, and who have accepted their offer of admission at SMU. Current SMU students are able to book a one-on-one appointment with me. Students should also keep an eye out for the quarterly fellowships newsletter, and weekly updates through the Moody graduate newsletter.
After our initial meeting, students can also be added to the Graduate Student Fellowships Canvas page where they can receive asynchronous support for fellowships. I regularly make announcements there as well.
Throughout the semester, I will also host info sessions, workshops, and boot camps (in-person and virtually). In short, there are many avenues for students to learn about fellowships, and connecting with me is a first step.
4. What made you interested in this newly created position? What is the main thing you'd like to accomplish in your first month/six months/year?
Prior to joining the Moody School, half of my job was dedicated to fellowships. I really enjoyed working with fellowship applicants, though I didn't get to work with graduate applicants as often as I would like.
When the Moody School created a position exclusively focused on graduate fellowships, I was excited to apply. The opportunity to create a new office and work exclusively on fellowships was very exciting for me. In my previous role, I made significant progress on undergraduate fellowship applicants and awardees, and I am excited to build a new office of fellowships for graduate students.
In the short term, my goal is to increase the number of fellowship applicants (which will lead to more awards). My long-term goal is to build a culture of fellowships among our graduate student population.
5. What's one thing you would say to prospective SMU graduate students who are concerned about receiving funding?
It's important to remember that nationally and internationally competitive fellowships are not financial aid. Most of the awards carry financial benefits, but these highly competitive fellowships should never be a graduate student's Plan A. Students should work with their departments and the Graduate Office of Financial Aid to ensure their funding for the academic year.
6. What is one preconceived idea that students have about graduate school funding and fellowships that you'd like to clear up?
Students often don't realize how long the fellowships process is. For many fellowships, students will apply six months to a year in advance of the fellowship start date. Many students miss opportunities because they don't think they're yet ready to apply or have misconceptions about how developed the work needs to be for a particular fellowship foundation.
Students should meet with me to discuss when they should apply for specific awards. In order to not miss deadlines, students should meet with me early and frequently. Don't let imposter syndrome stand in your way!

Begin Your Fellowship-Funded Ph.D. Program at SMU
SMU's newest school, the Moody School of Graduate and Advanced Studies, is able to offer a wide range of fellowships thanks, in large part, to a landmark $100 million endowment from the Moody Foundation.
SMU's Ph.D. programs cater to graduate students who want to engage in advanced, interdisciplinary, innovative studies, and data-driven research. Now, SMU and its graduate students are positioned to make even greater research contributions to our local Dallas community, our nation, and the world.
The new Moody School of Graduate and Advanced Studies is more committed than ever to helping grad students thrive. Learn how by accessing our resource!