All Posts
Spotlight: Ph.D. Alumnus Matthew Babcock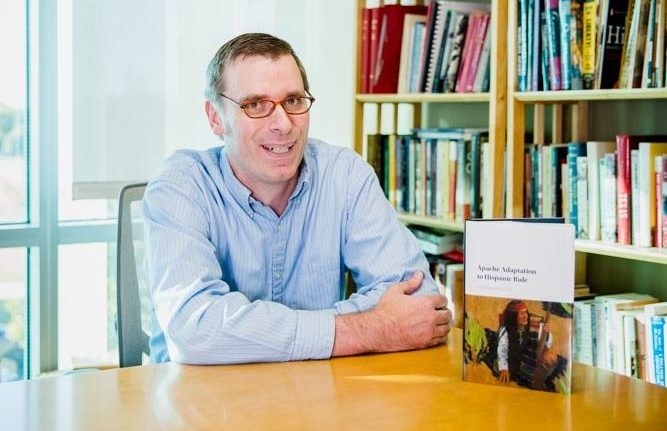 Prof. Matthew Babcock is an Assistant Professor of History at UNT Dallas, where he has worked as a founding faculty member since it became a four-year institution in 2010.
Prof. Babcock is also an SMU alumnus, graduating with his Ph.D. in history in 2008. He is a specialist in early North American history, focusing on the Indigenous, frontier, and borderlands history of the early Southwest. "My current interests include Indigenous adaptation to colonialism, territoriality, and cross-cultural trade and exchange," Prof. Babcock explains.
"In all of my work, I make a conscious effort to reach as wide an audience as possible by writing from multiple perspectives and framing my arguments in a global and comparative context. In recent years, I have relied on testimony from Indigenous informants in order to present a deeper, more authentic Indigenous perspective in my writing."
Like many alums of the Department of History, Prof. Babcock has been publishing steadily since leaving SMU.
"My book, Apache Adaptation to Hispanic Rule, was published by Cambridge University Press in late September [2016] as part of their highly-acclaimed Studies in North American Indian History series. The book, which began as a dissertation at SMU, reinterprets Southwestern history before the U.S.-Mexican War through a case study of the poorly understood Apaches de paz and their adaptation to Hispanic rule. It explains how war-weary mutually suspicious Apaches and Spaniards negotiated an ambivalent compromise after 1786 that produced over four decades of uneasy peace across the region.
In response to drought and military pressure, thousands of Apaches settled near Spanish presidios in a system of reservation-like establecimientos or settlements, stretching from Laredo to Tucson. Far more significant than previously assumed, the establecimientos constituted the earliest and most extensive set of military-run reservations in the Americas and served as an important precedent for Indian reservations in the United States.
As a case study of indigenous adaptation to imperial power on colonial frontiers and borderlands, this study reveals the importance of Apache-Hispanic diplomacy in reducing cross-cultural violence and the limits of indigenous acculturation and assimilation into empires and states."
In looking back at his time at SMU, Prof. Babcock enjoys fond memories of his work with top faculty members on campus.
"I came to SMU to study borderlands history with the late David Weber, who is still considered the 'Dean' of that field," he recalls.
"SMU has a wonderful history faculty in general, and the opportunity to study the early Southwest in a global and comparative perspective was very attractive to me. I particularly enjoyed the courses I took on the history of American Indians and the American West with Sherry Smith, early American history with Ed Countryman, and global and comparative history with John Mears. The Clements Department of History and the Clements Center for Southwest Studies also offer Ph.D. students generous funding for tuition and research expenses, which is extremely important in deciding where to attend graduate school."
The department has made strategic faculty additions in recent years, strengthening its offerings.
"With the addition of faculty members such as Andrew Graybill and Neil Foley, the program remains exceptionally strong in American History, particularly the American Southwest and northern Mexico."
For those interested in pursuing a career in academia in the field of history, Prof. Babcock recommends that the area of specialization be chosen carefully.
"Try to work with the best scholars in the field, and if you're lucky, you might gain notoriety through your research. But in case that doesn't happen, it's very important to be able to teach courses that are marketable for undergraduates across the country," said Babcock.
"Some prospective students interested in researching borderlands topics might be unsure whether to specialize in teaching U.S. or Latin American History. The answer may depend on what's most meaningful and familiar to you. But it's also important to recognize that although there are far more jobs available for U.S. history specialists than for Latin Americanists, there are also far more applicants for U.S. positions. Beyond that, anything that you can do to make your work relevant to a broader public audience, beyond academia, is critical."
Check out our History graduate programs to see if you should begin pursuing research in your interest area!