All Posts
Attending Professional Development Workshops While In Graduate School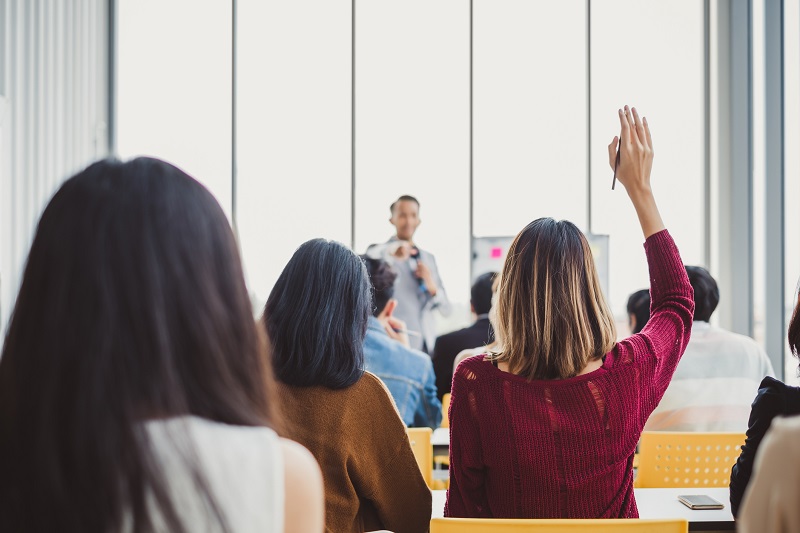 We recognize that a graduate education goes beyond the classroom. That's why SMU's Office of Research and Graduate Studies (ORGS) offers professional development workshops to meet the diverse needs of our students.
From helping you find additional funding opportunities to cultivating skills that will help you throughout your career, workshops are a great resource to enhance your experience getting a doctorate. Learn more about the types of events that we've recently offered to our current students.
Enhancing Communication Skills for International Students
ORGS has developed a series of inclusive hands-on workshops in partnership with Linda Evans from ESL at SMU that focus on exercising strong communication skills.
American English Pronunciation for International Students is designed to give students the opportunity to work directly with a trained instructor to refine their pronunciation skills. No preparation is required for students to attend the workshop, but they are encouraged to ask questions specific to their experience. The workshop has elements of a traditional lecture with the opportunity to interact and actively participate through modified lessons and verbal exercises that help students retain the information learned in the workshop.
Body Language and Nonverbal Communication Workshop for International Students focuses on particular body language and nonverbal communication habits and styles that are common in American culture. The goal is to help students feel more comfortable giving presentations and interacting with others on a day-to-day basis. Activities during this workshop include interactive videos, the act of "Power Posing," and conversations on what it means to convey confidence and receptiveness through body language.
In both workshops, the small class size allows for individualization of the material and direct interaction with a dedicated professional, which proves to be an enriching experience for both students. Furthermore, students leave with a new perspective on the importance of pronunciation and body language as elements of strong and effective communication.
Technical Writing Workshops
In the Fall, we invited guest speaker Dr. Carie King from the University of Texas at Dallas to conduct two workshops focused on technical writing for students pursuing a doctoral degree in relevant fields. Because our students are at different phases in their academic career, we offer two versions: one for students early in their doctoral career who are still completing coursework and the other geared towards students who are further along in their program and finished with their classes.
Both workshops cover citations, transitions between sentences to allow the flow of narrative in paragraphs and to improve and follow the writer's logic, and concision in sentence structure.
Webinars through the National Center for Faculty Development and Diversity
With a busy class and research schedule, sometimes it's difficult to attend professional development events in person. ORGS regularly promotes virtual events provided through the National Center for Faculty Development and Diversity (NCFDD), an independent professional development, training, mentoring organization that offers support, resources, and forums.
As a member of NCFDD, our graduate and professional students are able to access their resources at any time. We regularly communicate these relevant and informative workshops to our students through our weekly newsletter and our website.
Two webinars were particularly useful to our students this past fall. Sarah Grey hosted a webinar on the topic of Writing for a Broader Audience. This workshop helped researchers think about how to adapt their specialized writing style and convey complex ideas in clear, accessible prose such as books, magazine articles, and essays. Our students also participated in another NCFDD webinar on the topic of Networking for Introverts. Robbie Samuels taught participants how to be more strategic, effective, and inclusive when making connections and building great relationships.
Fellowship Information Sessions
Doctoral students in the humanities and social sciences often receive funding for archival or field research from government programs, charitable foundations, and other organizations. Other external sources provide fellowships to support doctoral students in the final stages of writing their dissertations. Both types of external awards-- research grants and dissertation completion fellowships-- are prestigious qualifications for doctoral students entering the job market and are therefore highly sought-after.
In Spring 2019, we will begin offering information sessions about both research grants and doctoral completion fellowships in order to help SMU doctoral students attain these competitive awards. Led by Dr. Rachel Ball-Phillips, Director of SMU's National Student Fellowships and President's Scholars Programs, these information sessions teach graduate students about the types of research grants and dissertation completion fellowships that exist and offer tips for putting together successful applications.
The Office of Research and Graduate Studies aims to provide access to resources that help our students thrive. No matter where you are in your program, we have you covered if you are seeking ways to make your graduate education more fulfilling and successful.
Want to learn more about pursuing your Ph.D. as an international student? Read "The International Applicant's Guide to a Ph.D." for a comprehensive look at what it would take!