All Posts
Spotlight: Rob Pearson, Director of Graduate Career Development and Postdoctoral Affairs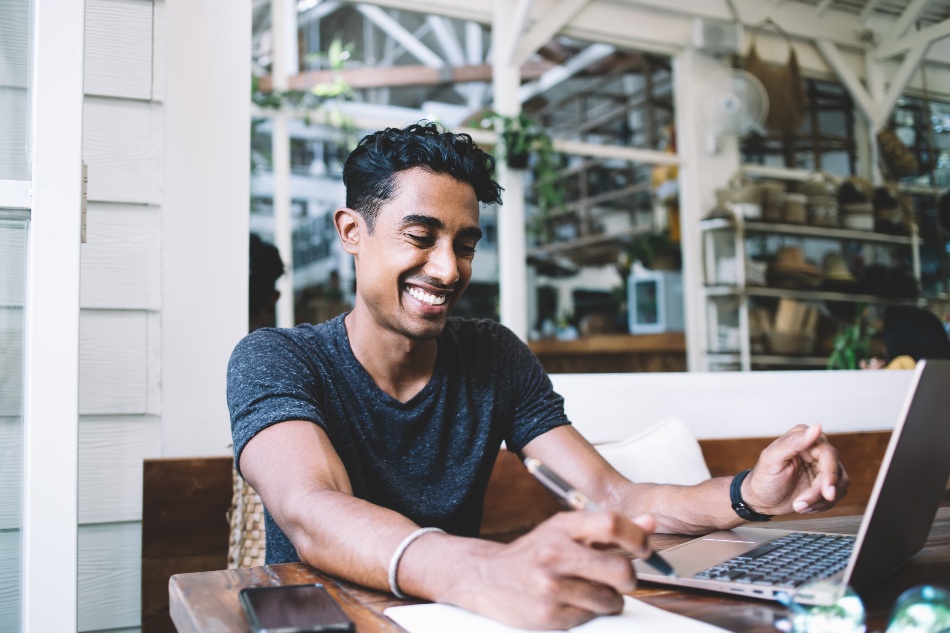 Between research, teaching and trying to have a life, graduate students are busy. So busy, in fact, that they often overlook the importance of career development before they start their job search. Rob Pearson, the new Director of Graduate Career Development and Postdoctoral Affairs at the Moody School, aims to change that.
We sat down with Rob to learn more about his experience and goals for this position. Read on to learn how Rob's work will support graduate students' career development endeavors and help strengthen SMU's post-doc community.
1. Tell us a little about yourself. Where are you from? Where did you study for your undergraduate and/or graduate degrees? Where did you work before starting this position at SMU?
I am delighted to begin my work with SMU this semester. I am originally from Fairfield, California and I moved across the country to Massachusetts for graduate school. Prior to coming to SMU, I held similar positions at Emory University and at UT Dallas.
My academic background is in musicology – the study of history, philosophy, and theory of music. My research on music mostly tried to answer questions about how music can move people's minds and bodies to build communities and consensus; in other words: why do we love music? After working as a musicology faculty member for four years, I moved into the graduate and postdoc career space.
In my work with graduate students, I start from the belief that graduate training prepares students for multiple career paths and that we need to do a better job of not only helping students learn about their diverse options, but also helping them to tell a compelling story of how their graduate training (through coursework, research, or teaching) offers rich and unique value to any number of employers.
2. Explain the role of Director of Graduate Career Development and Postdoctoral Affairs and how you will support students.
On the graduate career development side, I am responsible for developing a suite of activities that prepares graduate students and postdocs to embark upon a successful job search in sectors ranging from academia to industry, non-profit to government, and entrepreneurship to education.
On the postdoc affairs side, I am responsible for implementing new and streamlined processes for hiring and onboarding new postdocs as well as creating a sense of community among postdocs at SMU.
I view both sides of this position as related and overlapping—not only in the sense that graduate students and postdocs both bring advanced academic training and the potential for career fulfillment in diverse sectors (they definitely do!), but also in the sense that graduate students and postdocs can best thrive in an academic culture that values professional development, interdisciplinary collaboration, and an inclusive community where they can follow whatever path they choose.
I believe this new position of Director of Graduate Career Development and Postdoctoral Affairs reflects the Moody School's commitment to these values and I am so excited to work alongside my colleagues in the Moody School as well as alongside faculty, staff, students, and postdocs to further advance our culture in this direction.
3. How should prospective and current students expect to interact with you — via email? In-person interviews? Will you contact students or should those who are seeking funding schedule a meeting with you?
Student and postdoc input is central to my approach; how can I be sure the programs I offer support our constituents if I don't ask them? I invite feedback formally and informally at any time. That is why the first activity I organized since joining SMU was a series of meet-and-greet sessions, where students can learn about me and my approach, as well as share with me what kinds of career development support they would like to see from my office.
More technically, students can schedule a one-on-one career advising appointment with me at any time. They can also see our career development activities and online resources that are available to them on the Moody Career Development website. As we begin to roll out new trainings and resources, students can expect to see them advertised in the Moody School newsletter and on the Career Development website. Postdocs can expect to receive outreach directly from me.
4. What made you interested in this newly created position? What is the main thing you'd like to accomplish in your first month/six months/year?
I wanted to join the Moody School team because I am inspired by SMU's commitment to graduate and postdoctoral training at every level and across all disciplines. I was impressed by the faculty's desire to support graduate students' entry into the workforce.
Most of all, I was impressed by the students and postdocs I met, who were uniformly passionate about the topic of career and professional development and were eager for opportunities to connect on the topic of career opportunities.
In my first few months at SMU, I intend to learn as much as I can about graduate students' needs and interests around career development; to be successful in this role, I need to prioritize support that addresses what students actually need. In my first month, I held a series of informational and listening sessions with students and faculty, and I will continue gathering feedback from faculty and students well into the future.
But I also plan to hit the ground running. I have already set up a website where graduate students can make one-on-one career consultations with me, and I have appointments available every day of the week. In my first few months, I intend to develop several workshops as part of the Moody School's Professional Development Workshop Series. The topics will address what I am hearing from students: preparing job application documents such as CVs and cover letters, exploring what jobs are available, and developing a career plan that aligns with your interests, skills, and values.
5. What's one thing you would say to prospective SMU graduate students who are concerned about their career prospects if they decide to take the time to get a PhD?
I encourage prospective students to remember to keep an open mind to the career possibilities for individuals with graduate training. When I look at graduates from SMU who have obtained Master's and Doctorate degrees, I am impressed by the diversity of pathways that our graduates follow.
We have graduate-level alumni who have obtained positions in higher education, the non-profit sector, private industry, government, and entrepreneurship. A graduate degree from SMU, in any field, is very versatile!
I would also encourage prospective students to learn about and use the wide-ranging support for career and professional development that is available to Moody School students. From the student-facing team in the Moody school and our focus on graduate student life, career development, and finding and applying for external funding, to the Hegi Family Career Center's robust support for all students at SMU, to the discipline-specific career support offered in various schools and departments, graduate students at SMU can feel supported in their career journey.
Moody graduate students can access individualized coaching, group workshops, and on-demand resources to help them prepare for wherever their graduate degree takes them.
6. What is one preconceived idea that students have about career development while they're in graduate school?
I have seen graduate students enter graduate school with lots of preconceived ideas about career development. One common notion is the idea that career development is only necessary when you need a job. In fact, there are many aspects of career development that you can engage long before you apply for a single job.
For example, assessing your skills, interests, and values, developing a career plan that aligns with your values and commitments, exploring the range of careers available to you, building meaningful skills and experiences, setting goals, and building connections and networks in your field. In my role, I plan to provide ongoing opportunities for students to engage in career development at every stage of their time at SMU.
7. Any other advice or information that you'd like to share?
My most important advice to graduate students is to remember that you are a whole person. Graduate school is exciting! You get to dive deeply into a subject that really matters to you and gain specialized expertise that will impact the world in a way that only you can. This is very beautiful and important and is probably the very reason you are considering (or attending) graduate school.
But graduate school can also be very challenging, demanding, and sometimes even a little isolating. It is easy to become exclusively focused on your coursework, your research, teaching and little else. In addition to your academic and professional activities, remember to engage in activities that nourish your physical, social, emotional, mental, and spiritual health.
I recommend setting aside time each day for activities that energize you outside your work – for example, joining graduate student organizations, exercising, outdoor activities, creative and artistic practices, meditation, gardening (my personal favorite) or whatever speaks to you – these things are critical for your flourishing in graduate school as a whole person.
Explore How Moody Can Mean More For You
The Moody School for Graduate and Advanced Studies is a symbol of SMU's investment in cutting-edge research and research funding, fellowships for graduate students, and a stronger professional network and graduate school community.
Download our guide to discover more ways the Moody School serves our growing graduate community.