All Posts
Understanding the Differences Between SMU's Statistics Graduate Programs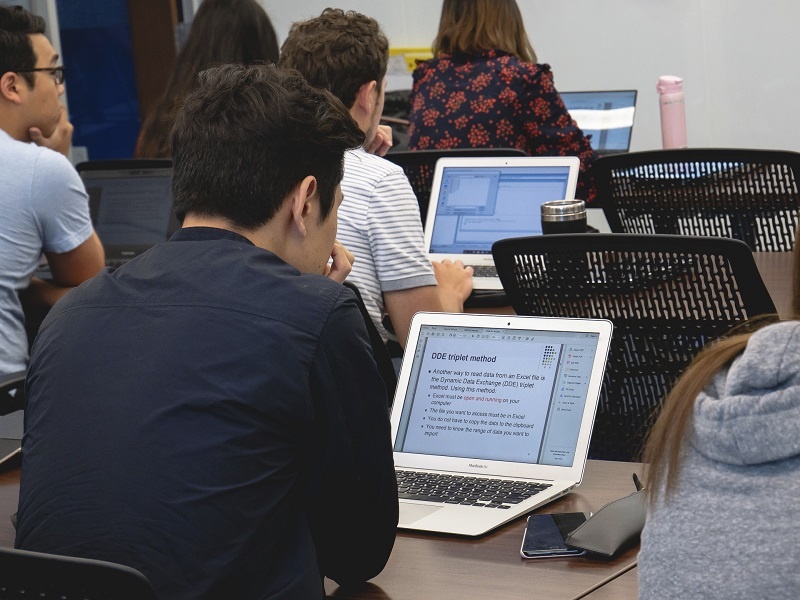 With the explosion of data from sensors, cell phones, and medical instruments, as well as from business processes, surveys, and social media, there is accelerating demand for specialists who are trained in data collection and analysis.
If you are considering pursuing a graduate degree in statistical science, read on to learn more about SMU's three programs, the things you will learn, and the ways you can use each of these degrees in the field after you graduate.
At Southern Methodist University (SMU), we offer three graduate degrees in Statistics: a Master of Science in Applied Statistics and Data Analytics, a Ph.D. in Statistical Science, and a Ph.D. in Biostatistics. Although these degrees intersect and overlap, there are distinct differences between them, each offering students a unique opportunity to strengthen their skills and specialization in a given area.
Master of Science Applied Statistics and Data Analytics (MASDA)
Time Investment: 18–24 Months
What You'll Learn: A Master of Science in Applied Statistics and Data Analytics (MASDA) degree from the Department of Statistical Science at SMU offers students a strong foundation in statistics and critical thinking skills—enabling graduates to anticipate and problem solve in a fast-paced world. Courses concentrate on practical applications of statistical analytics including statistical data analysis, big data analytics, data base management, statistical computing, and data mining. Students will develop in-depth statistical computing competence using SAS and R and many students are able to pass their SAS Certification exams.
Coursework for this degree includes classes in Experimental Statistics, SAS and Database, Statistical Consulting, and Computing with R.
What You Can Do with This Degree: The Statistical Science department at SMU is well respected and has an established reputation in the field. For this reason, graduates experience quality on-site training and competitive starting salaries.
After completing the MASDA program, graduates can expect to land jobs ranging from research consultants to corporate analysts with the potential for managerial and executive positions. Employers for graduates with analytics degrees include universities, governmental agencies, corporations, small businesses, and multinational organizations.
Ph.D. Statistical Science
Time Investment: 3–5 Years
What You'll Learn: The courses in the Statistical Science's Ph.D. curriculum at SMU provide our students with a strong theoretical foundation in mathematics, statistical inference, and probability. The emphasis in the Ph.D. program is on developing fundamental breadth and depth in both theory and applications. Students also acquire extensive experience in statistical applications and practice and are given the opportunity to learn through applied courses covering the intricacies of these fields—all essential elements for students pursuing a well-rounded, research-oriented Ph.D. degree.
Course work for the Ph.D. in statistics degree includes classes in Computational Statistics, Mathematical Statistics, Statistical Analysis, Linear Regression, Statistical Consulting, Probability Theory, and Advanced Statistical Inference.
What You Can Do with This Degree: In a world of big data and the increasing of digital dependency, the field of Statistical Science is growing and Ph.D. holders are in high demand. In fact, Fortune recently ranked it as the number one graduate degree for jobs. Aside from teaching in academia, Ph.D. holders are hired by research, advertising, and marketing companies to perform data analysis, or by Wall Street to work as a quantitative analysts or 'quants'.
Because so many fields interpret and use data, the intersections and job opportunities are endless. For example, you can work as an Environmental Economist/Policy Analyst helping to evaluate the benefits and costs of certain regulations, policies, and programs, interpreting the data to demonstrate program efficacy.
Ph.D. Biostatistics
Time Investment: 3–5 Years
What You'll Learn: The Department of Statistical Science at SMU and the Department of Clinical Sciences at the University of Texas Southwestern Medical Center at Dallas (UTSW) have partnered to offer a Ph.D. program in Biostatistics. The degree is conferred by SMU, but students in this program take courses at both SMU and UTSW. Students develop a strong mathematical and statistical foundation similar to the Ph.D. in Statistical Science curriculum, but they also take courses that prepare them for a research career in Biostatistics. During the third and fourth years of the curriculum, students work with researchers at UTSW under the joint supervision of one or more SMU faculty mentors.
Course work for this degree includes classes in Statistical Methods in Clinical Trials, Epidemiology, Statistical Methods for Genomic/Genetic Data Analysis, and Modeling Longitudinal & Incomplete Data.
What You Can Do with This Degree: Biostatistics is one of the fastest growing and crucial specialties within the field of statistics. Biostatistics plays an important role in the healthcare industry, an area where statisticians can have a significant impact. In this field, data carries life and death significance.
With a Ph.D. in Biostatistics, graduates can expect to work in any number of positions, including as researchers and statisticians in clinical trials for pharmaceutical companies and in interpreting data for hospitals and medical institutions. Other interesting career opportunities could include contributing to the product development of innovative medical devices, which begins with statistical analysis.
Discover Your Path to a Career in Statistics
At SMU, each of our three graduate degree options are designed to equip you with the specific skills you need to excel in the field of statistics.
Hopefully this discussion of our three graduate degrees in Statistics has helped you see more clearly the career paths and research opportunities that an advanced degree could offer you.
To learn more about our programs check out our comprehensive digital resource: A Complete Guide to Studying Statistical Science!