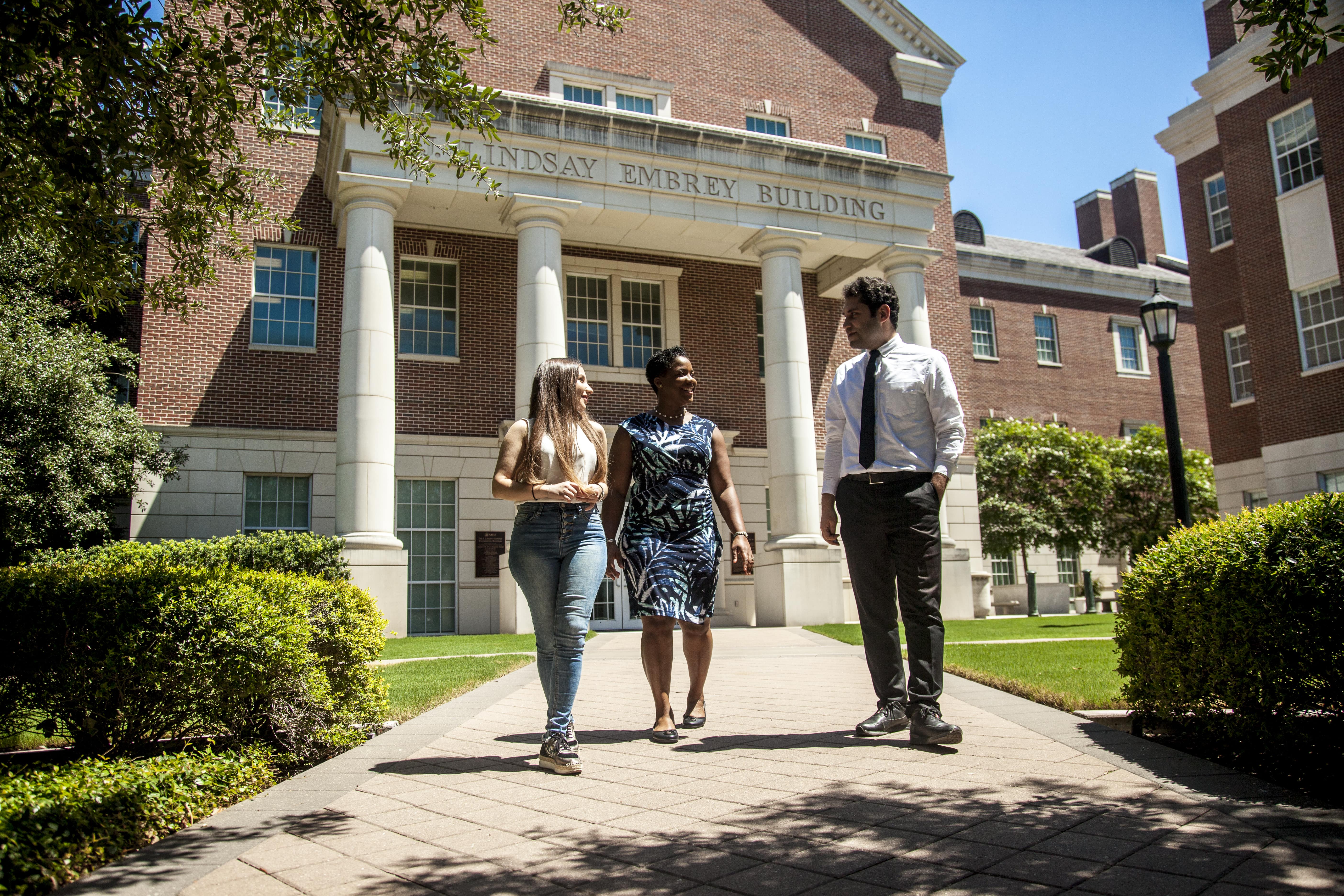 Many of us take for granted the everyday structures that support our lives — the bridges we cross on the way to work, the tall office building we walk by on the way to pick up a cup of coffee, and even the walls that support our homes. What keeps these structures from cracking or collapsing under the stress of environmental challenges and human activity? The short answer: structural engineering.
Structural engineering is a specialty within the discipline of civil engineering that focuses on designing and constructing the foundation and framework for buildings, transportation systems, and other types of infrastructure. These engineers analyze structures and improve their ability to withstand the natural and human elements that wear them down.
Christopher Stenzel is a graduate student currently enrolled in the Accelerated Pathways program at SMU, allowing him to achieve his Master of Science in Civil Engineering with an emphasis in structural engineering in just one year. We spoke with him about his desire to work in the field of structural engineering, what he hopes to do with his degree, and why he chose to pursue his passion at Southern Methodist University.
Tell me a little about yourself.
I am an Accelerated Pathways student aiming to complete my master's degree in Structural Engineering at SMU in Spring 2021. I graduated in May 2020 with dual bachelor's degrees in Civil Engineering and Mathematics.
Initially, I became interested in the field of civil engineering through my grandfather. He founded his general contracting firm, SEDALCO, based in Fort Worth, Texas, thus the construction/engineering infatuation could be deemed hereditary. Outside of familial influences, I have always been exceptional at math and fascinated with buildings, infrastructure, and construction as a whole.
Why did you choose the Civil Engineering program at SMU?
I came to SMU because I believe it is one of the best engineering schools around, and I wanted to stay close to home, as I have three younger siblings. I admired SMU's men's soccer team as a kid, and as I got older, I fell in love with the campus and engineering department.
Now that I've experienced the program, I would say my favorite part about it is the interpersonal relationships you develop as a student. If you put in the effort and make yourself known, you can create an extensive network of colleagues, professors, mentors, and friends within the Lyle community.
What resources do you feel set SMU apart from other civil engineering programs?
Apart from other civil engineering programs, I think SMU does a fantastic job of bringing in guest speakers and lecturers, as well as providing multiple opportunities for students to get involved in engineering related events in the area. Through various lectures, career fairs, research days, and guest speakers, SMU was easily able to distinguish itself from other programs by offering a sense of opportunity and networking in the Dallas area.
What achievement, project, or experience are you most proud of from your years in school?
I am most proud of my accomplishments as an undergraduate research aid under Dr. Brett Story. I was an undergraduate research aid for more than two years and have been involved in producing proposals for various clients, lab experimentation for Ph.D. dissertations, literature reviews for relevant topics, and external events such as research days and "Science in the City."
Additionally, my research team was featured twice in The Dallas Morning News for our developments in structural health monitoring for bridges by using accelerometers in our iPhones while traversing a bridge. I would say this exposure was a highlight of my years in school so far.
Tell us about one professor who has impacted you during your graduate program.
I can wholeheartedly say that I would not be where I am today if it were not for Dr. Brett Story. By bringing me into his research group, he exposed me to so much that I wouldn't have experienced through classes alone. I learned so much about civil engineering, as well as myself.
He has also supported me in continuing my education at SMU and pursuing my master's degree in structural engineering. I plan to write a thesis under him as well during this time. I would consider Dr. Story not only a well-respected leader in the Lyle School of Engineering but also a mentor to me throughout my time at SMU.
What are your career dreams or plans? How has the civil engineering program at SMU helped prepare you for your future?
I wish to develop a structural design firm and follow a path similar to my grandfather. SMU has helped me prepare for this by providing me with an abundance of knowledge and opportunity, as well as specific guidance and support dealing with design and real-world applications.
How can prospective engineering students best prepare to begin and thrive in a graduate program?
I believe prospective students can best prepare to thrive in their program at SMU by establishing relationships early. I have found it immensely beneficial to have close relationships with as many professors, advisors, departmental board members, and leaders within the Lyle School as possible. The engineering school is keen on helping each other out, and by building close relationships with as many individuals as possible, you can propel yourself towards success in the program. You never know when you might need help and need someone to go to for guidance and advice on your academic career.
Is there anything else you'd like to add? Any advice or wisdom you would pass along to a prospective student?
Get involved and reach out to as many people as you can. You never know what your connections and relationships could do for you. I was able to achieve a research position under my favorite professor at SMU, as well as receive employment interest from my senior design client. However, if you don't put yourself out there to be seen, or don't put in the time and effort to be successful, the opportunities that the Lyle School presents to you will be put to waste. Always take advantage of the opportunities provided to you to learn more or better yourself within your academic career.
Additionally, I would strongly advise participating in research studies under a Lyle professor. Through this experience, you will learn countless real-world skills that wouldn't be taught in a traditional class setting—and you'll gain more advanced technical knowledge in your field of study. Research not only provides you with more experience than a traditional class setting, but it allows you to apply your knowledge through experimentation, literature review and analysis, and client interaction.
Overall, stay involved and remain dedicated to your goals, and Lyle will help you achieve them!
Discover SMU's online and hybrid engineering graduate degrees!
The Lyle School of Engineering at Southern Methodist University offers advanced degrees in civil and environmental engineering and sustainability and development. Our Master of Science in Civil Engineering program allows you to customize your degree plan by selecting one of four areas of emphasis: construction management, geotechnical engineering, structural engineering, or transportation systems. Additionally, our programs are offered fully online and in a customizable hybrid format, making them easily adaptable to meet your needs.
At SMU, we are committed to your academic and professional success. To learn more about our programs, we invite you to visit our website or download the guide below!
Looking for career outlook, salary information, and a complete breakdown of all our graduate degree offerings? Download — A Guide to Online and Flexible Graduate Degrees in Civil and Environmental Engineering.