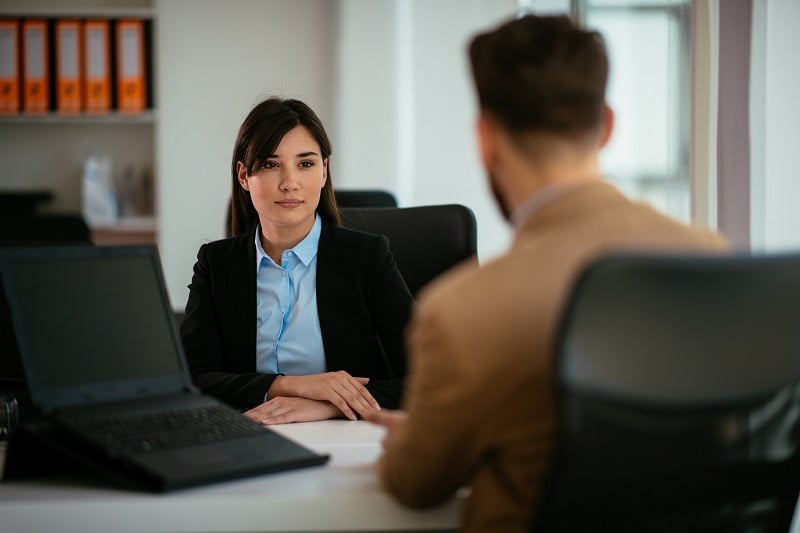 If you've been invited for an admissions interview, you should celebrate! It's a good sign that the program is particularly interested in you above other candidates, and they want to learn more about you and your academic interests.
A student's CV says a lot about them, but there is only so much you can learn about a person on paper. Even the best application essays, letters of recommendation, and test scores leave gaps that require a face-to-face conversation. Admissions interviews give the faculty a chance to get to know you on a deeper level. It also gives you a chance to get to know them. Every interview is a two-way street, after all.
Here are some things you should consider when preparing for your graduate school interview:
Research the Interview Process for Each School
Some things are common to all programs, like the most frequently asked interview questions (more on that below), but you should begin by researching the specific admissions interview process for each school you plan on sitting down with. After receiving and reviewing the instructions for the interview, consider asking the following questions if they have not already been answered for you:
Who will be interviewing me? And in what manner (1-2 faculty or a panel)?
Will the interviewers have access to my application materials (scores, transcripts, resume, statement of purpose, etc.)?
Determining the answers to these questions will help you anticipate how to answer questions and what level of detail you should be prepared to provide.
Know the Most Commonly Asked Graduate Admissions Interview Questions, and Practice Your Answers
All schools want to know the same basic information — who you are, your research interests, your career goals, and how you plan to contribute to the school's program. A great place to start your interview preparation is to take the time to formulate thoughtful, honest, and compelling answers to the most commonly asked graduate school interview questions. After contemplating your responses, enlist the help of a family member or friend and practice, practice, practice.
You should not memorize your answers, you don't want to sound rehearsed, but you do need to be prepared. Practicing your answers will give you the confidence you need to sit across from your interviewers and thoroughly express why you desire to research and study at this school.
Come Prepared
Perhaps the best thing you can do to stand out in your interview is to be prepared. Coming into the interview calm, collected, and with confidence demonstrates your serious level of interest in the program. Dedicating time and attention to small details can add up quickly — like arriving early, dressing professionally, practicing good hygiene, and bringing a copy of your resume, CV, and other important documents.
You should also come prepared with questions to ask your interviewers. This is as much of an opportunity for you to get to know them, as it is for them to get to know you. At the end of their questions, they will likely give you the opportunity to ask questions in return. This is a perfect opportunity to demonstrate your seriousness about the school and your genuine interest in the program.
By taking the time to prepare a few questions (pro-tip: write them down beforehand and bring them with you) you gain valuable insights into the program and can spark meaningful and memorable conversation. Take a look at these questions to ask in a grad school interview, but be sure to ask about the things that are specifically important to you.
Be Ready to Talk About Yourself (Confidently)
Most interviews will begin with an ice-breaker question. The interviewer will ask you to tell them a little bit about yourself. Come prepared to confidently share a short summary of who you are, why you are passionate about this subject, and how you became interested in your area of research. You should also be prepared to speak to what specifically makes you a good fit for the school and how your research interests align with one of the school's faculty.
It is also a good idea to come to your interview prepared with a few personal stories that can help demonstrate why you would be an ideal fit for the program. Think of times when you overcame challenges, performed under pressure, or worked as a team. These anecdotes can give specific, tangible examples of how you would handle yourself in a PhD program.
Be Mindful of Nonverbal Communication
Your nonverbal communication often speaks louder than the words you say in your interview. Nonverbal communication includes your body language, facial expressions, and gestures. If you know that you struggle in some of these areas, practice in a mirror or in front of a friend. Repetition leads to muscle memory, so when it comes time for the real thing your practice will pay off.
Being a little nervous is natural, but do your best to take a few deep breaths and work past it. To help you out, here is a step-by-step guide to acing nonverbal communication throughout your interview:
Walk into the interview with confidence.

Give a firm handshake to those who will be interviewing you, look them in the eye, smile, and say hello!

Sit up tall with your shoulders back, maintain eye contact, and relax.

Remember to breath, smile, and relax your facial muscles - a furrowed brow or tense jaw communicates nervousness.

Try to avoid foot-tapping, hair twirling, or other nervous tics. Instead, be present in the conversation and focus on the questions at hand.

When the interview is complete, thank the faculty and staff. Again smile, make eye contact, and give a firm handshake.

Reinforce your gratitude and sincerity by sending a written thank you message following your interview.
Every Moment Is An Interview
During your visit, you may take a tour of the campus, meet with other faculty and staff, or interact with current graduate students. Remember — every moment you visit the school is an interview, so put your best foot forward. Always behave professionally and responsibly, as current students could influence your admissions decision.
Most importantly — be yourself. Schools want to find the right fit for their programs and you want that too. If what you present during your interview is not an honest representation of who you are, you might find that once admitted, the program is not what you need. Come prepared to showcase the best version of yourself, be confident in your preparation, and best of luck!
Looking for more information on the PhD application process, including a comprehensive look at the doctoral degree journey? Explore our digital guide — Choosing, Applying for, and Thriving in a

PhD

Program.