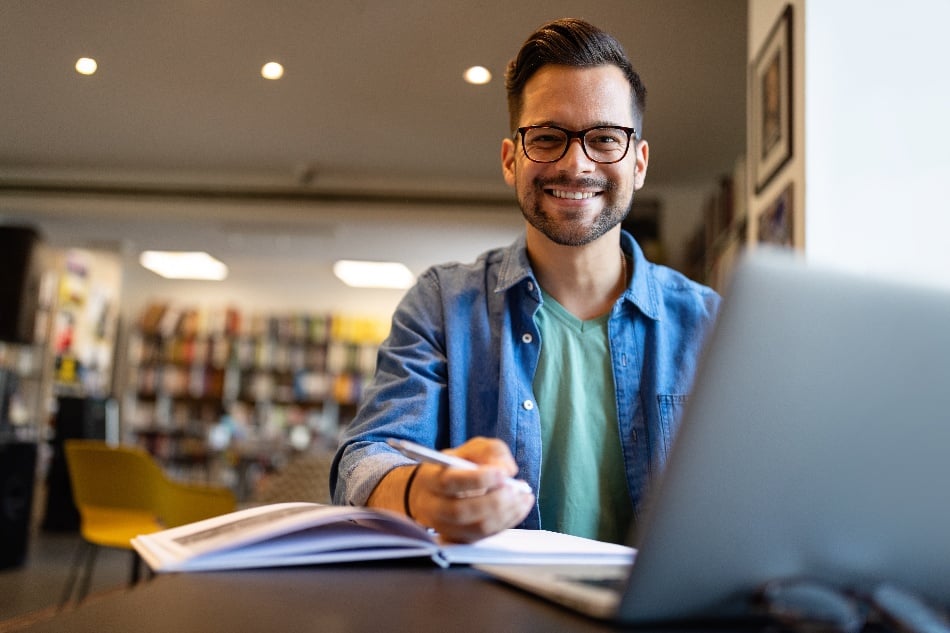 If you're reading this, you're probably exploring your options for advancing your undergraduate degree. Could a PhD be the ticket to realizing your academic goals and dreams?

The decision to return to graduate school for a PhD is a significant one. However, a PhD is worthwhile — essential, even — if you want to conduct original research, or if you desire a career in academia or another specialized field.

Some know exactly the subject in which they'll earn their doctorate. For others, the decision is more ambiguous. The question then becomes: how can you create the most synergy between your bachelor's in English and your PhD?

It starts with narrowing your field of focus. So, go ahead and rule out those graduate programs in biochemistry, and start exploring a PhD in the humanities.
What do we mean by "the humanities?"
According to Encyclopedia Britannica, the humanities are "branches of knowledge that concern themselves with human beings and their culture or with analytic and critical methods of inquiry derived from an appreciation of human values and of the unique ability of the human spirit to express itself."




Put more succinctly, the humanities focus on the potential and agency of human beings — considering humans as the starting point for all serious moral and philosophical inquiry.

At its broadest level, the humanities include the studies of...
Literature
Languages
The Arts
History
Philosophy

Best PhD programs for English majors
If your undergraduate degree is in English, pursuing a PhD in the same discipline is an obvious path — but it's not the only one. Depending on the kinds of classes you took and your interests within the field of humanities, you may be qualified to pursue a PhD in other disciplines.

However, you should keep in mind that if you choose to pursue a new field of study, you may need to take additional prerequisite courses in addition to the courses you took to earn your bachelor's degree.
1. PhD in Religious Studies
As an English major, you've most likely read a few religious texts, and you understand their significance regardless of your affiliation (if any). Truthfully, a PhD in Religious Studies doesn't require you to be religious. Studying religion is studying ethics, beliefs, communities, and people.

A PhD in Religious Studies will foster a greater understanding of the roles religion plays in the contemporary world and throughout history. You'll examine the world's religious traditions as social, cultural, and historical phenomena.
2. PhD in Linguistics*
Have you ever marveled at the perfect word choice in your favorite play? Or, while reading a line of dialogue in a piece of literary fiction, heard the dialect, clear as a bell? There is no literature without language. The study of language is called linguistics, and it encompasses every aspect of language, in addition to the methods of studying and modeling them.

Linguistics has traditional areas of analysis like phonetics, morphology, and syntax, the latter of which studies the rules and constraints that govern how speakers of a language can organize words into sentences. There are also linguistic sub-disciplines like historical linguistics, which is the study of language change, particularly in relation to a specific language or group of languages.

For lovers of the written word, loving words themselves and the science behind them is the next logical step.
3. PhD in History
History, of course, is the study of the past. At the same, history helps us understand change and how the society we currently live in came to be.

"History, despite its wrenching pain, cannot be unlived, but if faced with courage, need not be lived again." – Maya Angelou

History and English are inextricably intertwined. After all, many of the novels, poems, and essays you read as an English major made history in their own right.

Both history and English make use of a very similar set of skills. Do you enjoy studying literary theories and analyzing texts through a specific critical lens? History has a comparable approach. It's much more than reciting the names of influential people and the dates of important events; historians must understand it all within the context of the time.

Part of being a student of history is gaining the skill to sort through diverse, often conflicting interpretations. Your undergraduate degree in English will have set you up for success.
4. PhD in Media Studies*
Like all forms of art, the creations of writers give us direct access to what it means to be human in all its complexity and mystery. If you found that your favorite part about being an English major was the art you encountered and the stories you were exposed to, you might want to consider a PhD in something like Media Studies.

Media Studies will allow you to study story, culture, and contextual theory across various technical modes of production and reproduction, including print, photography, cinema, video, television, radio, etc.
5. PhD in Political Science*
At first, Political Science and English may seem like strange bedfellows. But you've already built a strong foundation in critical reading and thinking, approaching literary analysis through multiple lenses, and finding the influences of culture, politics, and social issues peppered throughout a work during your undergraduate study.

Political and economic factors — and the relations between them — figure into many great works. Studying political science allows you to understand the origins and underpinnings of political values, from a historical and philosophical perspective.

Think about it this way: if you find your favorite written works tend to have larger political meaning, this might be the right route for you.
6. PhD in English
Unsurprisingly, a major in English prepares you incredibly well for a PhD in English.

From the first flowerings of poetry in Old English to the most recent creative work being published, a PhD in English gives students the comprehensive knowledge of literary criticism they need to join faculties across the world. Depending on your specialization, you'll study anything from medieval literature to African-American literature to literature in the age of revolutions.

Your bachelor's degree in English gave you a broad overview, whereas your PhD will help you identify a specialty and drill down to become a subject matter expert.
Explore the Humanities at Southern Methodist University
It's not just what you study, but where. SMU's Dedman College of Humanities and Sciences can offer you a world-class education in the heart of Dallas, Texas.
Read our guide
"Reanalyzing Our World: Humanities PhDs at SMU" to learn more about the faculty, research, and opportunities available to you here.
*Graduate programs in these fields are not offered at SMU.