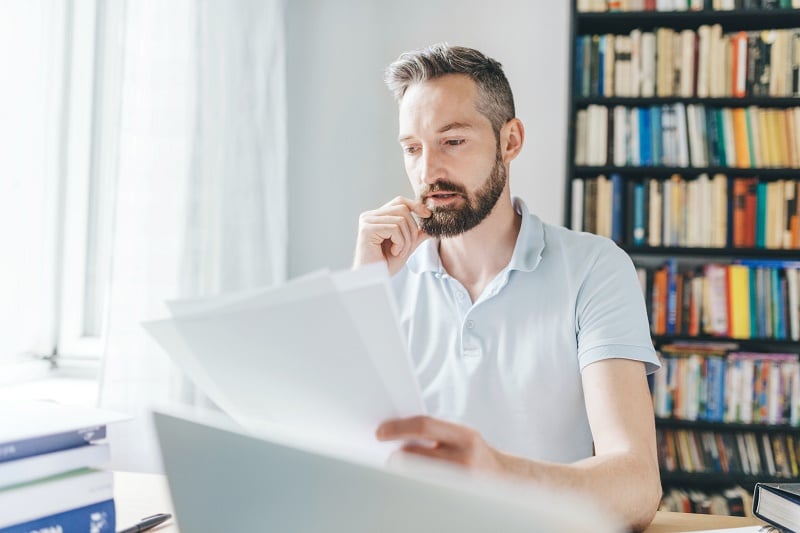 Whether it's an application to graduate school or your first job after getting a doctorate, completing any sort of application can be a little stressful. To combat the stress, it is best to have all the necessary documents updated and ready to go. One particularly important document is your curriculum vitae, or CV.
In fact, as a Ph.D. student or recent graduate, you will need a particularly strong CV. Read below for tips and advice on how to craft a compelling CV that will take your application to the next level.
Do I Use a CV or a Resume?
Depending on the type of application, you may be asked to provide either a resume or a CV. What's the difference?
A resume is more commonplace for industry-type job applications. It succinctly outlines your professional experience and highlights your major accomplishments in 1-2 pages. Other things to include are your educational history, significant awards and honors, and projects that you've managed. You might also mention relevant special skills, such as foreign language proficiency, expertise with particular software programs or platforms, and certifications or trainings that you have completed.
A CV is more comprehensive and can be multiple pages. It is generally associated with applications for academic and research positions. Your CV can include the same information as a resume, but it should also list your publications, important conference presentations, current research interests and projects, and any research grants or fellowships that you have been awarded.
Formatting Your CV
With so much information to sift through, a simple format is crucial so readers can find what they need quickly and easily. To start, use one font consistently through your document and clearly mark your sections with bolded headings. Because this is a professional document, avoid using colored text as well as scripted or calligraphic fonts that may be difficult to read.
Condense your material to provide a clear overview of your experience. It is better to keep your CV short and save extensive details for your cover letter or interview. If you have multiple items under a section, use bullet points to list each one. Don't forget to use proper citation formatting when listing your publications and presentations, too.
Finally, use a standard text size and make sure your margins and sections are spaced well. Because there is no real page limit for a CV, don't worry about fitting everything into a small amount of space. The reader should be able to print your document and still read everything comfortably.
Have Multiple Versions
Why is it beneficial to have different versions of the same information? Because every application is unique and every hiring committee is looking for something different. Along with writing a custom cover letter for every application, you should tailor your CV to a particular job as well.
Start with a master file that contains your entire professional and academic history, including details you can reference for future applications and interviews. From there, copy and paste your information into a few template-like versions that correspond to the type of job that you might seek out and rearrange the information so it catches the reader's eye.
For example, if you are about to graduate with your Ph.D., you may want to create a post-doc CV that puts your research and presentation experience at the top, a faculty-position CV that highlights your most recent teaching and presentation experience, and an industry-focused resume that summarizes your academic and research accomplishments in 2 pages. You should always edit your templates depending on the position posting, but you will not have to start from scratch each time you need to submit an application.
Keep Your Information Current
You never know when a great opportunity will suddenly appear. By keeping your CV up to date, your information stays fresh and easily editable at a moment's notice. If you move to a new job, update your master file with correct position titles, start and end dates, and supervisor contact information. Keep your most recent information at the top of the section, as that is often what readers want to see first.
Make a habit of updating your documents with details of any significant projects or assignments at the end of each semester (or at a minimum, annually). This will give you material that you can use for the future and prevent you from struggling to remember specifics years later. Also, be sure that your contact information is always accurate and up to date.
A CV is not only a document outlining your accomplishments, but also a representation of your professionalism. Therefore, it is worth the effort to get it right from the beginning. A polished CV is guaranteed to amplify your already impressive achievements and to get your application noticed.
Are you interested in graduate school? Check out our 32 Ph.D. programs to see if one might fit your research interests!